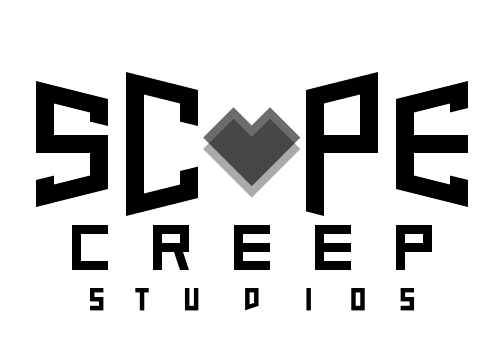 Factsheet
Developer:
Scope Creep Studios
Based in Ann Arbor,
Michigan
Founding Date:
April 8th, 2016
Website:
Press / Business Contact:
Social:
Overview
Simple Games for Complex People
Scope Creep Studios, the brainchild of Chris Salzman, Kyle Latino, and Steve Kemsley, started as a collaboration for the Ludum Dare game jam and quickly spiraled out of control. Our games feature themes that adults can appreciate, but simple mechanics that children can enjoy.
Early History
Our first real game was an endless runner called Saloon Smash, based on Hannah Jumper and her "Hatchet Gang" of prohibition organizers. We had so much fun that we kept going.
In 2015, Scope Creep released our first iOS game, All You Can Eat: He Won't Stop Eating. In it, a hungry frog visits a buffet and slowly eats the chef out of business. After garnering literally 10s of downloads, we are following it up in 2016 with the release of You Can't Win But You're Still a Good Person (AKA You Are Good).
What's in a Name?
We took the name Scope Creep Studios from the phenomenon where a project grows slowly out of control through small additions that increase its size until it becomes unmanageable. In an effort to keep our enemies close, our name is a reminder that great ideas aren't realized without intelligent and controlled execution. It's also an inside joke because we're kind of awful at managing scope.
Who We Are
Kyle brings a decade of art experience to the Scope Creep team, but he knows that pixel art alone doesn't make a good game. He has a deep understanding of game dynamics and design. Plus, he can make a sweet glossy bump map textured polygon.
Steve has a keen ear for sound design and a good eye for visual design. At Scope Creep, his talents help us to conjure an immersive and intuitive gaming experience. In addition to writing music and designing interfaces, Steve sometimes programs alongside Chris.
Chris, our fearless leader at Scope Creep Studios, believes that a system is only as good as its end result. He's passionate about building games that are meaningful and unexpected. His coding and diligent testing ensure not only that our games are fun, cohesive, and expandable, but also that they work.